Hole 1
Par 4
Black 419
Gold 408
Blue 376
White 345
Red 308
Men's Handicap 7
Women's Handicap 7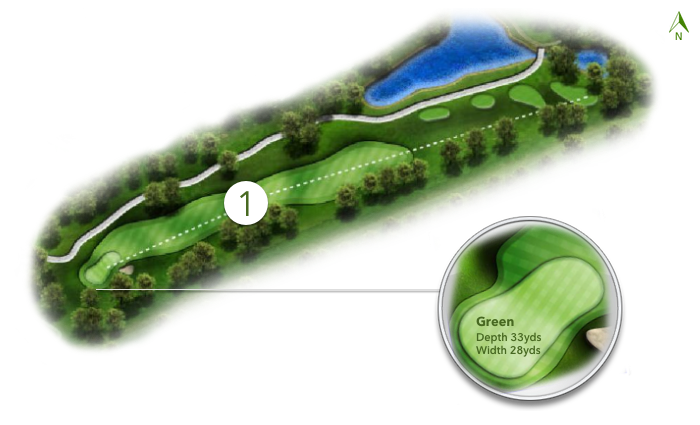 The first hole is a straight forward par 4. The fairway has a few undulating slopes. A left front bunker stands guard at this two tiered green.
Hole 2
Par 4
Black 390
Gold 372
Blue 343
White 343
Red 273
Men's Handicap 9
Women's Handicap 11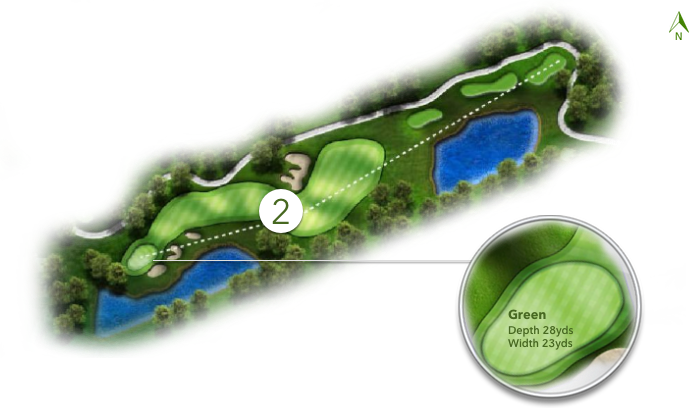 An accurate 3 wood off the tee allows you to avoid the fairway bunker on the right and the water hazard that comes into play on your approach. Two strategic bunkers guard the left side of the green, which slopes from front right to back left.
Hole 3
Par 5
Black 565
Gold 534
Blue 534
White 511
Red 445
Men's Handicap 3
Women's Handicap 1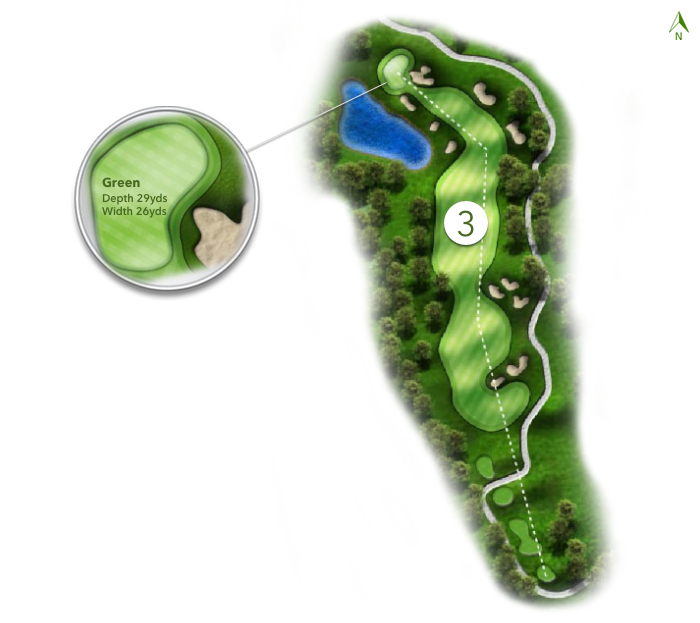 The first par 5 on the course is seriously defended with fairway bunkers. An ideal 3rd approach shot would be a short iron from the left edge of the fairway. A shot to the center is a good play for this heavily protected green.
Hole 4
Par 3
Black 172
Gold 152
Blue 152
White 131
Red 108
Men's Handicap 15
Women's Handicap 17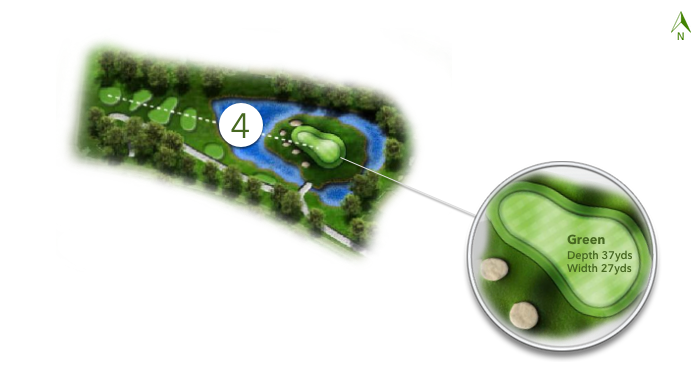 An island green presents a very challenging par 3. Along with the five bunkers protecting the approach, the green's spine has a tendency to divert any shots homing in at the flag. Exceptional putting is crucial to escaping this hole with a par.
Hole 5
Par 4
Black 432
Gold 418
Blue 389
White 389
Red 318
Men's Handicap 5
Women's Handicap 5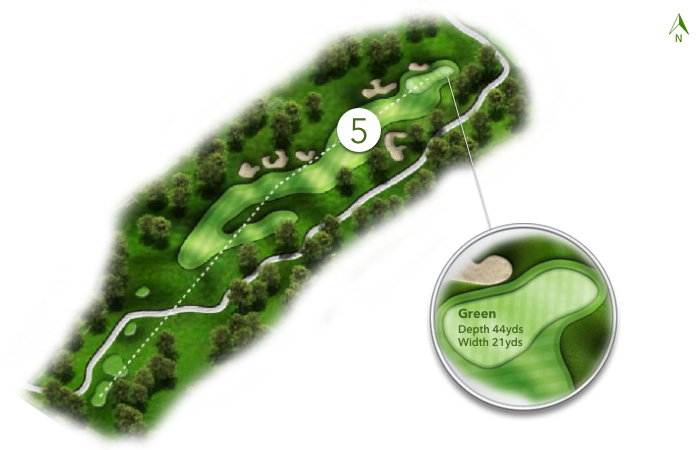 This great par 4 offers two landing areas off the tee. A longer drive up the left side leaves you a mid iron into a very deep green. Favor the right side of the green on your approach to avoid trouble on the left.
Hole 6
Par 5
Black 597
Gold 573
Blue 573
White 536
Red 433
Men's Handicap 1
Women's Handicap 3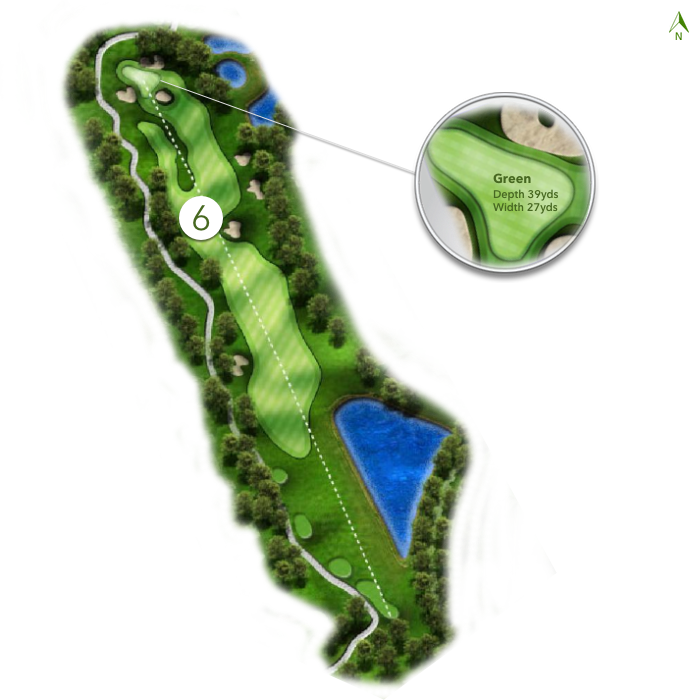 This three shot par 5 is generous off the tee and requires a skillful placement of your approach shot. The fairway bisects leaving you two options for your 3rd approach shot. Menacing bunkers will punish any shots short or over the green.
Hole 7
Par 4
Black 382
Gold 368
Blue 368
White 334
Red 277
Men's Handicap 11
Women's Handicap 9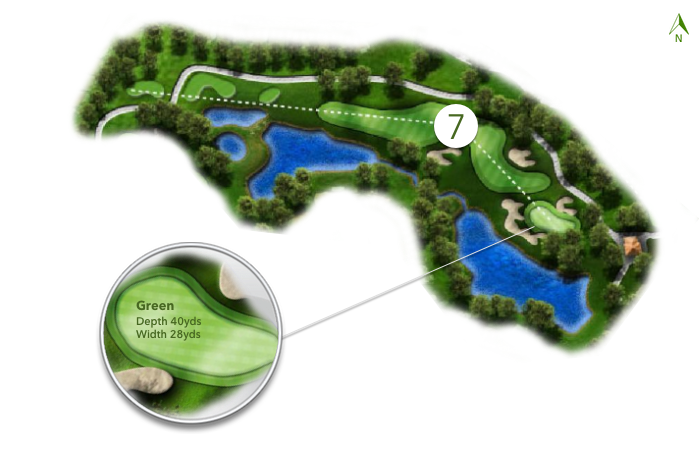 A challenging dogleg right offers a risk reward tee shot. A long drive leaves you a short wedge into an undulating green. If you decide to play it safe, a mid to long iron shot is required to find the putting surface. Great shot making can yield birdies.
Hole 8
Par 3
Black 170
Gold 156
Blue 156
White 142
Red 122
Men's Handicap 13
Women's Handicap 15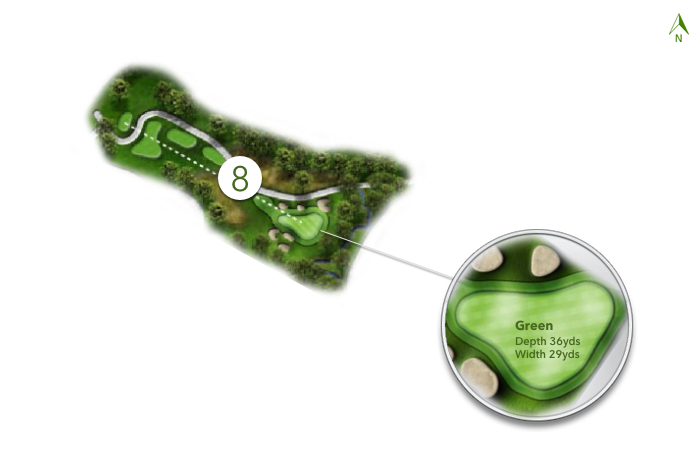 The shortest par 3 on the course provides a fair challenge. The green is flanked by 3 bunkers on the left and 3 bunkers on the right making a straight mid-iron an ideal shot. Putts will take the slope starting high on the back left side of the green down to low front right side.
Hole 9
Par 4
Black 417
Gold 385
Blue 340
White 300
Red 228
Men's Handicap 17
Women's Handicap 13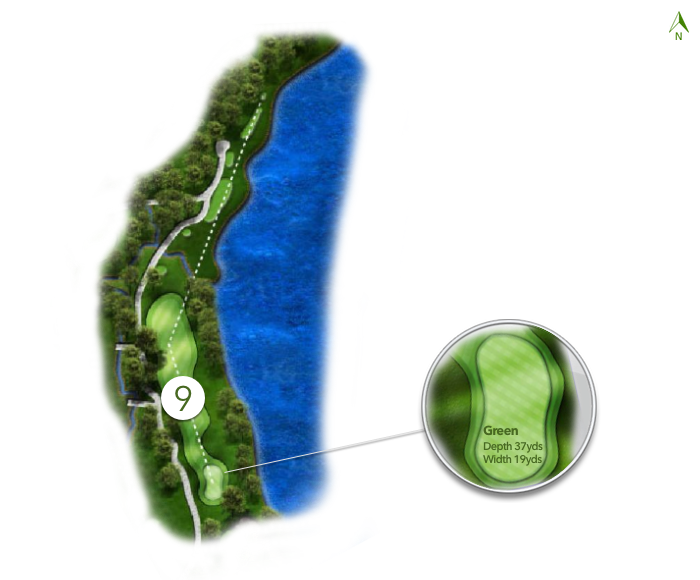 The narrowest hole on the golf course requires utmost precision off the tee. Lake Charles awaits wayward shots to the left and a small creek runs down the entire right side of the hole. An elevated green is protected by grass mounds on both sides.
Hole 10
Par 4
Black 424
Gold 420
Blue 375
White 375
Red 297
Men's Handicap 2
Women's Handicap 8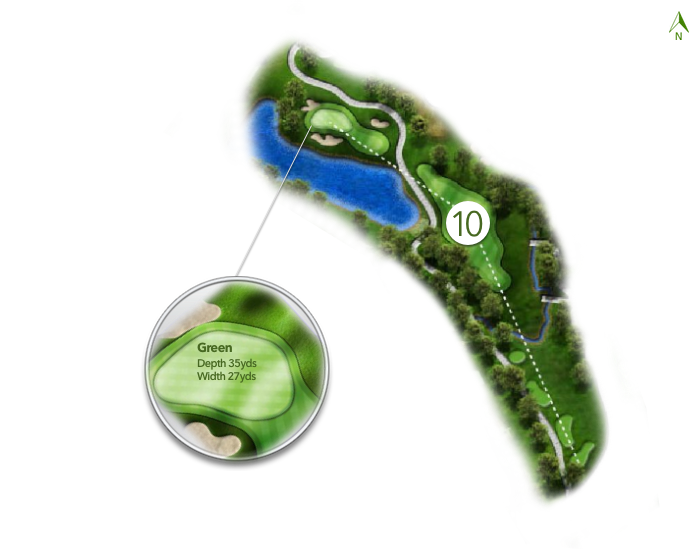 This par 4 is a tight dogleg left with a small creek running down both sides of the fairway. An accurate mid to short iron is required on your approach shot to a slightly elevated green. Trouble awaits any shot left or long.
Hole 11
Par 4
Black 415
Gold 397
Blue 371
White 345
Red 302
Men's Handicap 6
Women's Handicap 6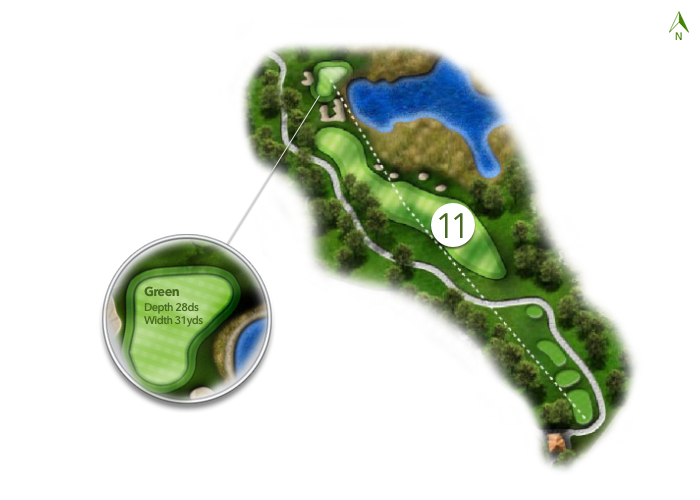 This is the toughest test of all par 4's. Finding the fairway is a must in order to hit the green in regulation. Greenside bunkers and natural wetlands fortify this elevated, two tiered green. Par is a great score.
Hole 12
Par 3
Black 193
Gold 180
Blue 180
White 158
Red 117
Men's Handicap 18
Women's Handicap 16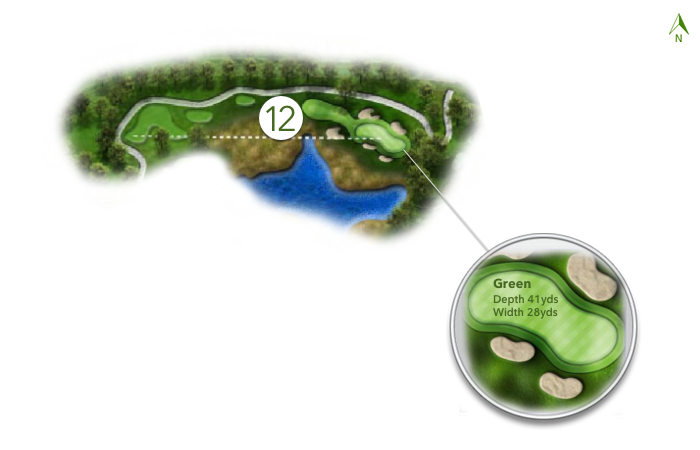 The longest par 3 on the course provides a challenge to any long iron or hybrid tee shot. Five bunkers surround the green with natural wetlands fending off any mishits to the right. Get your first shot on the green and you've got a chance at making a birdie.
Hole 13
Par 4
Black 424
Gold 395
Blue 379
White 342
Red 297
Men's Handicap 14
Women's Handicap 10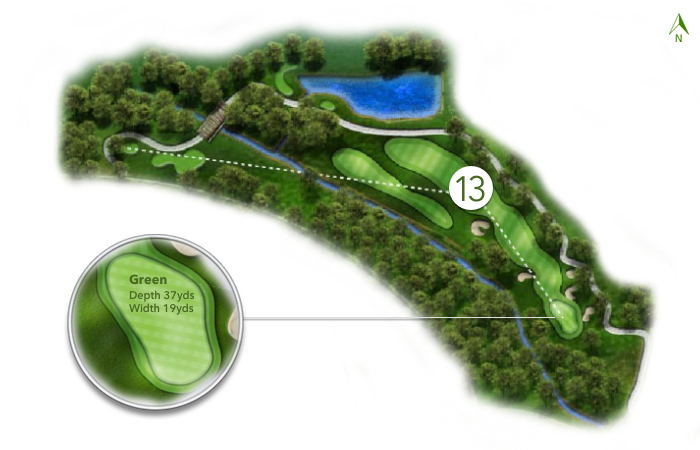 This short par 4 is for the taking if you can find one of two fairways off the tee. Tree lined down the right side, accuracy is rewarded on this hole. This will leave you with a short to mid iron approach shot to a treacherous deep green.
Hole 14
Par 5
Black 551
Gold 537
Blue 510
White 495
Red 447
Men's Handicap 10
Women's Handicap 2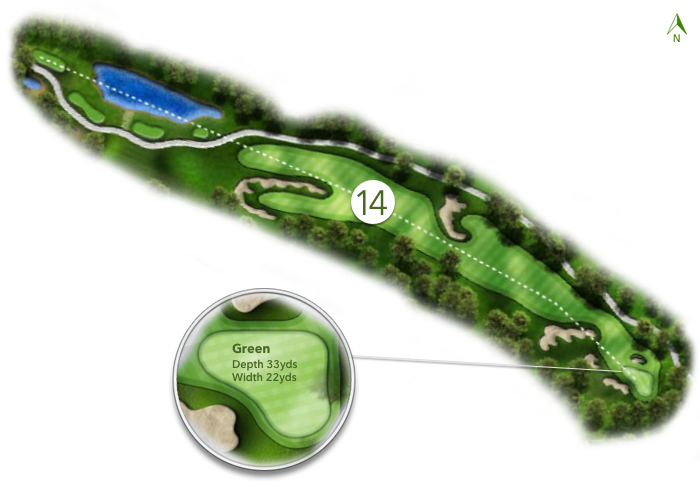 This uphill par 5 is the most generous hole throughout the golf course. Three great shots will warrant low scoring opportunities. A back right to front left sloping green will challenge your green reading abilities.
Hole 15
Par 3
Black 189
Gold 165
Blue 165
White 146
Red 102
Men's Handicap 16
Women's Handicap 18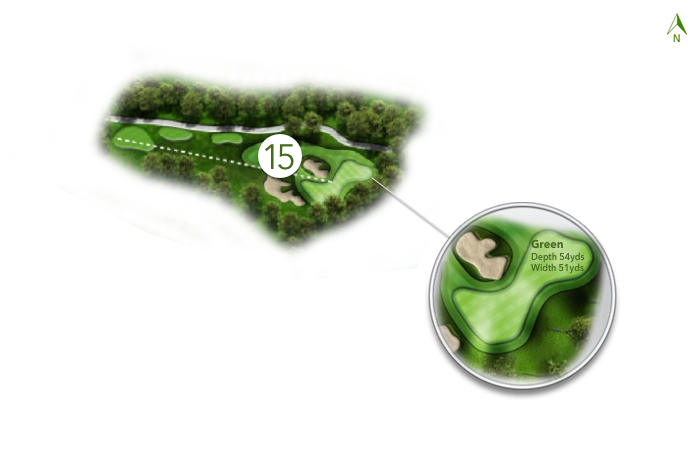 A challenging par 3 with an expansive green, the largest on the course, protected by two large front bunkers.. A well hit tee shot can get you on the dance floor. Any mishits can result in a 120 foot putt on a sloping green. Par or birdie are attainable, just bring your A+ putting game.
Hole 16
Par 4
Black 382
Gold 366
Blue 340
White 325
Red 253
Men's Handicap 8
Women's Handicap 14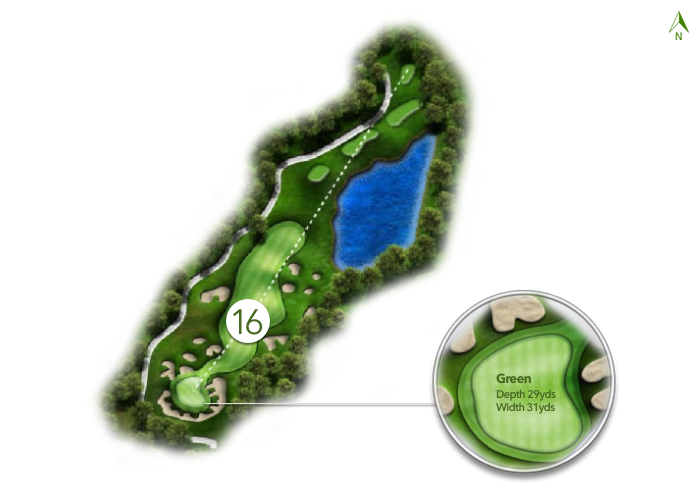 A tricky little uphill par 4 is well protected by numerous bunkers. This elevated two tier green can be diabolical if you misjudge the pin position.
Hole 17
Par 5
Black 580
Gold 565
Blue 535
White 517
Red 407
Men's Handicap 4
Women's Handicap 4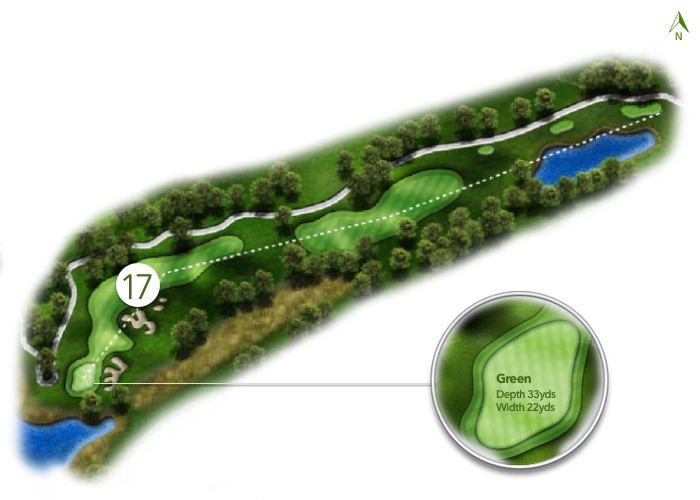 The final par 5 on the golf course will demand three well executed golf shots. Favor the right side of the fairway as perilous bunkers extend down the left side. A green in regulation is a battle won, an easy putt is your path to a birdie or par.
Hole 18
Par 4
Black 447
Gold 425
Blue 398
White 305
Red 294
Men's Handicap 12
Women's Handicap 12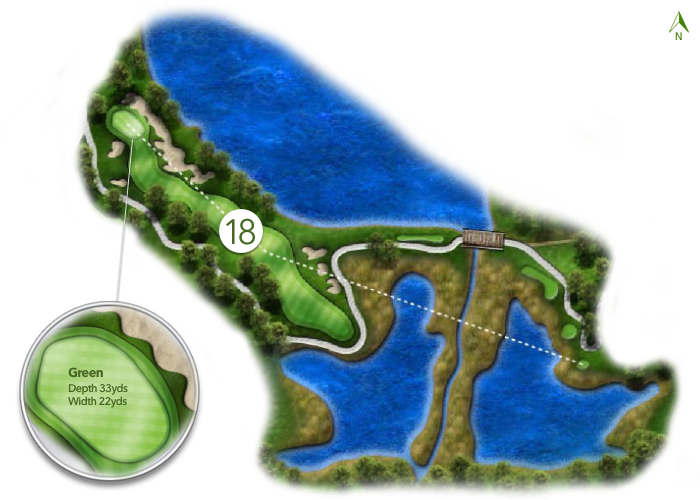 The most demanding of tee shots sets up for a picturesque finish. A long carry over wetlands and bunkers should leave a straightforward shot to the green. Aim your approach shot for the left side of the green as trouble creeps in from the right.